Posted on
By Kelly Wyly O'Donovan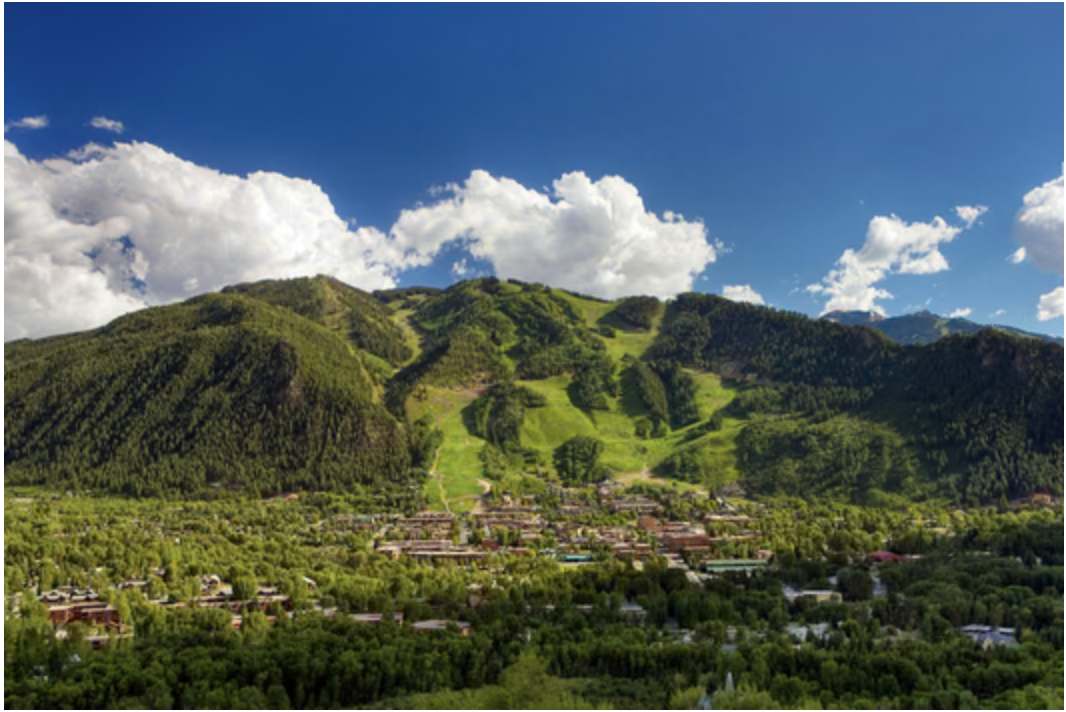 Want to know what we think is the perfect day in Aspen? Check out this blog, because we BLOG ALL ABOUT IT.
Photo: Aspen Summer Overview by Jeremy Swanson: available at Elliott Yeary Gallery at FOUR ONE NINE 
Experience the Magic: A Perfect Day in Aspen, Colorado
Nestled among the picturesque Rocky Mountains, Aspen, Colorado, is a haven for adventure seekers, nature lovers, and those seeking a perfect day of exploration. From exhilarating outdoor activities to cultural experiences, Aspen offers an array of delights for an unforgettable day in the mountains.
Morning Bliss: Embrace the Outdoors
Start your day by grabbing a coffee and a pastry from Paradise Bakery, a smoothie from JÜS or sit down for a stack of pancakes at locals' favorite diner, Poppy Cock's Cafe. Want something a bit more elevated? We love embracing the crisp mountain air with a scenic hike or a peaceful stroll by the river, then heading over to Prospect at The Hotel Jerome for lattes and a full hot breakfast, sometimes we treat ourselves and order mimosas. Really, anytime you head downtown to one of Aspen's charming cafes or eateries for a delicious breakfast, you will be pleased. Enjoy where you are, a mountain paradise. Savor local specialties while soaking in the charming atmosphere that defines Aspen's vibrant community.
Want to work off those pancakes and lattes? Take a run up Smuggler or take it easy and wander along the Rio Grande Trail, be sure not to miss the John Denver Park. You will love seeing the lyrics of those songs you know by heart etched into boulders with the sounds of the river bubbling in the background. Hunter Creek Trail is always a favorite, or take a walk up Ute Trail for some uphill hiking. Keep going and you reach the top of Ajax. Make sure you check to see when the gondola is open, so you can download and take in the sites from above on the way down. You may want to explore the breathtaking trails surrounding Aspen, such as the Maroon Bells, where the lush landscapes and serene vistas will leave you in awe.
Midday Adventure: Dive into Aspen's Offerings
As the day progresses, dive into Aspen's rich cultural scene. Visit the Aspen Art Museum to admire contemporary artworks or explore the Wheeler Opera House for live performances and cultural events.
For a taste of history, take a guided tour of the Wheeler-Stallard House Museum or delve into Aspen's mining past at the Aspen Historical Society. We take the kids to the Aspen Firehouse for a mini tour of Aspen History and to see the big shiny firetrucks. Whatever you do, we encourage you to immerse yourself in the town's heritage and gain insights into its fascinating stories.
Afternoon Indulgence: Retail Therapy and Gourmet Delights
And now, for our favorite part. Aspen is renowned for its upscale shopping scene. Spend your afternoon exploring the charming boutiques, luxury shops, and art galleries lining the streets of downtown Aspen. Discover unique finds and luxurious items that capture the essence of this mountain town. Make sure to stop by Elliott Yeary at Four One Nine. We are a one stop shop for unique fine jewelry, art, and interesting fashion finds. 
After a delightful shopping spree, treat yourself to a gourmet lunch at one of Aspen's top-notch restaurants. For Mexican, we recommend Las Montañas, for seafood, you can't beat Clark's. Looking for a great burger? We love Whitehouse or Ajax Tavern (don't forget to order their famous truffle fries). Meat & Cheese is always a hit as well, the Thai Chicken Soup will warm your spirit on a chilly day. Indulge in the culinary delights crafted by world-class chefs using fresh, locally-sourced ingredients. Almost any of the picks will provide delicious food and fun people watching. 
Evening Delights: Sunset and Fine Dining
As the sun begins its descent behind the mountains, head to a scenic spot to witness the breathtaking Aspen sunset. Whether from the top of Aspen Mountain or along the banks of the Roaring Fork River, the vibrant colors painting the sky will leave you in awe.
Conclude your perfect day with an exquisite dinner at one of Aspen's acclaimed restaurants. From upscale dining experiences to cozy eateries, Aspen's culinary scene offers diverse options to suit every palate. Newly Michelin star anointed Bosq gets our pick for most unique and seasonal menu. Locally owned and operated, it is a special place. Looking for a locally owned dining experience where you are likely to spot a celeb? Cache Cache is a classic that just gets better with age. They have a great bar if you are dining solo, have a group? Make sure to secure reservations well in advance during the busy Winter and Summer seasons. Craving sushi? Kenichi and Matsuhisa are here to feed that need. Got Italian on your mind? Send the kids for slices of NY Pizza and book an adult evening out at Campo Di Fiori, the fresh pastas and sauces that will delight you. 
Nightlife and Relaxation: Unwind Under the Stars
Complete your day by exploring Aspen's nightlife. Enjoy live music at The Belly UP or catch a performance at one of the entertainment venues. Alternatively, unwind with a nightcap at a cozy lounge while recounting the day's adventures. Hooch is a great place to grab a cocktail and have a conversation. We are also fans of the lounge at The Hotel Jerome, or the lobby bar at The Little Nell. 
Maybe the busy scene isn't for you? Book a massage therapist to come to your place. Retreat to your accommodations – be it a luxury hotel or a cozy mountain lodge – and bask in the tranquility of Aspen's nighttime ambiance. Maybe you want to curl up by the fire with a hot cocoa. Hot tub sound good? Plan on booking a place with a hot tub. Summer, Fall, Winter, or Spring, it is always hot tub season here in the eventing. Reflect on the day's experiences under the starlit sky before hitting the hay and drifting off into a peaceful slumber.
Aspen, with its natural beauty, cultural richness, and endless possibilities, offers an idyllic setting for an unforgettable day. Every moment spent in this mountain paradise is a testament to the magic that defines Aspen, Colorado.
Perfect day in Aspen 
Dining in Aspen 
Hiking in Aspen 
Breakfast in Aspen 
Cocktails in Aspen 
Lunch in Aspen 
Dinner in Aspen 
Restaurants in Aspen
Aspen shopping
Retail stores Aspen
Shopping in Aspen, CO
Aspen boutique shops
Aspen fashion stores
Aspen luxury shopping
Aspen shopping district
Best shops in Aspen
Aspen retail therapy
Aspen shopping experience
Trendy stores in Aspen
High-end shopping Aspen
Aspen downtown shops
Aspen shopping center
Aspen designer stores
Aspen local shops
Unique shopping Aspen
Aspen specialty stores
Aspen outdoor retail
Aspen ski gear shops
Artisanal shops Aspen
Aspen gift shops
Aspen home decor stores
Aspen exclusive retailers 
Designer clothing stores in Aspen
Aspen shopping guide